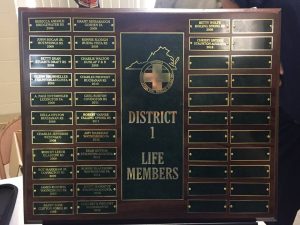 Congratulations to Chrissy Snyder for being awarded the distinguished honor of Life Membership to District I of the Virginia Association of Volunteer Rescue Squads.
Chrissy joined the Staunton-Augusta Rescue Squad as a junior member at the age of 16. Over the past 20 years she has competed on the junior EMT team as well as the senior BLS and ALS competition teams at both the District and the state level.
Chrissy has served the VAVRS District I as the Recruitment and Retention Chairperson, Junior Squad Advisor and currently serves as Secretary. She has been involved in writing numerous BLS problems for District competitions and developed scoresheets based on VAVRS state guidelines. Chrissy is always willing to do whatever is asked of her to make District I the best it can be.
District I is grateful for your dedication and congratulates you on this honor!