Are you ready for the best job of your life?
Then you have come to the right place! Staunton-Augusta Rescue Squad periodically seeks responsible, dependable ALS & BLS providers who interact well with the public, volunteers, and co-workers. Candidates must have the ability to deal with patients and their families in a professional, courteous, compassionate manner under extremely stressful conditions and follow established rules, procedures, and protocols. Testing for a position is required.
Requirements for Employment:
All applicants must have pre-hospital experience as at least an EMT-Basic for one year.
BLS applicants must have a minimum certification of Virginia EMT-Basic, CPR for Healthcare Providers, and EVOC Class II
ALS applicants must have a minimum certification of Virginia EMT-Enhanced/Intermediate/Paramedic, CPR for Healthcare Providers, and EVOC Class II
All applicants are required to turn in a clean driving record, and submit a finger print card to be sent to the Virginia Office of EMS for a criminal history background

Qualifications:

Minimum Education – High School Diploma or equivalent
Minimum age – 19 years of age
Current Certification in Virginia EMT-B, AEMT, EMT-I, EMT-P
Current Certification in EVOC minimum Class II or VDFP certification in emergency vehicle operation
Current Certification in AHA CPR
Acceptable Driving Record from DMV (DMV transcript on file)
Acceptable Driving Record letter from VFIS (insurance) annual MVR form
Acceptable criminal history by Virginia State OEMS Standards after Finger Print Review
Mandatory drug screen within 3 days of employment and random testing done
Ability to flex hours as needed for call volumes and to meet schedule needs
Computer Skills to enter patient care data into the Patient care reports
Must be able to lift and manage stretchers and equipment of at least 75 pounds
Physical ability to handle patients, ambulatory ability to move to and from vehicle and medical facilities
Must be able to climb stairs, bend, and have the flexibility needed to care for patients using good body mechanics
Maintain good health. Encouraged to be involved with a health maintenance program
      Schedule

Ability to work weekends, 12 hour shifts, night and day shifts, and Holidays
Computer capabilities to work on self schedule
Flexibility in scheduling for switching schedule if need arises
How do I apply?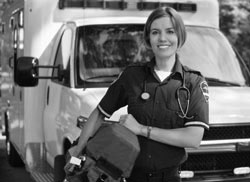 Please do not submit a resumé/cover letter if the hiring indicator above states we are not currently hiring
If we are currently hiring, please send your resume and cover letter to Kim Craig at our mailing address (1601 N. Coalter St. Staunton, VA 24401) or you may email it to Kim Craig.
Email: kcraig@stauntonrescue.org
Please Contact Us with any questions!