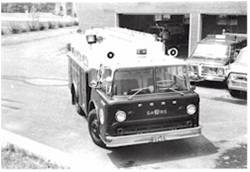 The Staunton-Augusta County First Aid and Rescue Squad Inc. began operation in 1938.  It all started when a few volunteers from Staunton Fire Department organized the first city's rescue squad which at that time was known as the Staunton Rescue Squad.  The squad's primary responsibilities were to transport city employees and indigent patients to and from King's Daughters Hospital.  It was also the responsibility of the squad to rescue people involved in motor vehicle crashes.  Most other patients and victims were transported by an ambulance owned by local funeral homes. The volunteers were taught first aid by local physicians.
By 1940 the squad answered about 20 calls a month using vehicles called panel trucks.  The City of Staunton equipped the trucks with a stretcher, a few first aid supplies, sheets, and blankets.  In 1944 the squad joined the Virginia Association of Volunteer Rescue Squad.  The squad purchased its first true ambulance in 1956, a used 1955 Cadillac, which cost about $5200.00.
On November 10, 1965, four members of the squad asked City Council if the squad could leave the fire department and operate on its own.  This request was granted and on June 26, 1967, the squad's charter was filed and officially became known as the Staunton-Augusta County First Aid and Rescue Squad, Inc.  Ground was broken on North Coalter Street on August 7, 1967.  The land had been donated and the building opened in July of 1968.  The squad answered about 100 calls a month that year.
In July 1990 the Augusta County Emergency Operation Center and the Staunton Police Department began dispatching calls for the squad.  Up till then the squad had an emergency phone in the building called the "red phone" which was answered by a crew member at the building.
Today
Many things have changed in 75 years.  Staunton-Augusta County Rescue Squad now answers over 6500 calls a year, has a fleet of 6 ambulances, 1 response vehicle, 1 utility vehicle, and a crash/rescue truck.  Today's ambulances are equipped with the most up to date equipment for Basic and Advanced Life Support.  The squad has a combination of 110 volunteers and career staff whom are trained EMT's to Paramedics.  Also the members have extensive training in Vehicle Extrication and Vertical Rescue.  The Rescue Squad began Revenue Recovery in 2005.
Since the beginning there is one thing that has not changed and that is the commitment "to provide the best prehospital emergency care to the Citizens of Staunton and Augusta County"