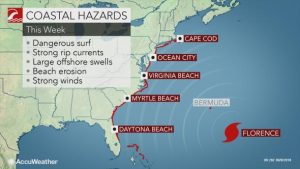 All interests along the coasts of the Southeast and mid-Atlantic are being put on alert for a potential strike from Hurricane Florence during the second half of the week.
AccuWeather meteorologists believe that Florence will reach the Carolina or Virginia coasts and pose a serious threat to lives and property late this week.
There is the potential for Florence to stall or significantly reduce its forward speed as it nears the coast, which could prolong the effects of damaging winds, storm surge flooding and beach erosion.
States of emergency have been declared in North Carolina, South Carolina and Virginia due to possible impacts from the storm.
Florence, currently a Category 2 hurricane, is expected to regain major hurricane status (Category 3 or higher) and could reach Category 4 strength as it continues to track west-northwestward and enters a favorable environment for intensification early this week.
Florence became the first Category 4 hurricane of the 2018 Atlantic season last week but later weakened due to a zone of strong wind shear and cooler waters.
Seas to become dangerous well ahead of Florence
Large swells will propagate outward hundreds of miles away from the center of the storm this week.
The swells will make for rough seas along and well off the U.S. East Coast, Bermuda, the northern shores of the Caribbean islands and the south- and southeast-facing shores of the Canada Maritimes, according to AccuWeather Senior Meteorologist Alex Sosnowski.
"The rough surf and seas can occur hundreds of miles away from the path of the storm," Sosnowski said.
The frequency and intensity of rip currents will increase.
If caught in a rip current, do not panic or fight the current. Swim parallel to the shore until you are free of the current's grip. Then swim at an angle, away from the current, toward the shore.
"The surf may be especially hazardous, since most lifeguards are not on duty past Labor Day," Sosnowski said.
Operators of small craft should heed all advisories that are issued and remain in port if necessary.
Larger vessels, such as cruise or cargo ships, may have to reroute their courses to avoid Florence's dangerous seas.
RELATED: 
5 expert tips for protecting your home against hurricane damage
Hurricane proof your yard with these expert wind-resistant tree planting tips
Why hurricane-resistant homes aren't constructed, bought more frequently
6 ways to prepare now for hurricanes
Florence may bring significant impacts to U.S. East Coast
Florence is expected to be as strong as a Category 4 hurricane by the time it makes its closest approach to the United States from Wednesday to Thursday.
AccuWeather Hurricane Expert Dan Kottlowski said that a Florence landfall along the U.S. East coast is becoming more likely, with the Carolinas at greatest risk on Thursday.
The exact track, overall size and forward speed of the storm will determine which locations receive the worst of Florence's damaging winds, heavy rain and storm surge flooding.
The strength and orientation of an area of high pressure over the western Atlantic will be key to Florence's movement this week.
The high will guide Florence more toward the west-northwest around the middle of the week.
If the high weakens, Florence will make a quicker turn to the northwest and may skirt the North Carolina and Virginia coastline without making landfall.
If the high remains strong, Florence will take a slower turn to the northwest and be guided onshore over North or South Carolina.
"That scenario has a high probability of occurring in North Carolina and Virginia and possibly portions of neighboring states in the Southeast, Appalachians and mid-Atlantic late this week and this coming weekend," Sosnowski added.
Some of these areas have been drenched by Tropical Rainstorm Gordon this past weekend.
A slow-moving or stalled storm would also prolong coastal flooding and high wind concerns and may cause significant beach erosion along part of the Southeast and lower mid-Atlantic coasts.
Wind gusts topping 100 mph are likely near and just north of where Florence approaches the coast.
Regardless of which scenario pans out, Kottlowski is concerned that Florence will slow down and possibly stall near or inland of the coast, potentially leading to a life-threatening flooding situation.
"As we have seen with hurricanes in most recent years, such as Lane in Hawaii earlier this summer and Harvey last year in Texas, feet of rain can fall when these tropical storms stall," Sosnowski said.
ong-duration hurricane-force winds of 74 mph or higher could cause tremendous damage and widespread power outages.
Should Florence come ashore as a Category 4 hurricane and move swiftly inland, damaging winds and power outages may extend inland more than 100 miles.
"Strong high pressure to the north may also enhance winds farther north along the coast than what would normally occur," Sosnowski said.
"As a result, people from southeastern Virginia to southern New Jersey could have damaging winds and significant coastal flooding, even if Florence hovers or moves ashore in North Carolina."
Unfortunately, the scenario that kept the worst of Florence's impacts out to sea is the least likely at this point.
"Residents and interests living along and near the Carolina coast and even up toward the Virginia Capes should closely monitor Florence and be ready to put their hurricane plan in place," Kottlowski said. "If you do not have a hurricane plan in place, do so immediately."
People should also pay close attention to and take the advice of local officials for their given area.
Download the free AccuWeather app to stay up-to-date with Florence's expected track and impacts to the U.S.